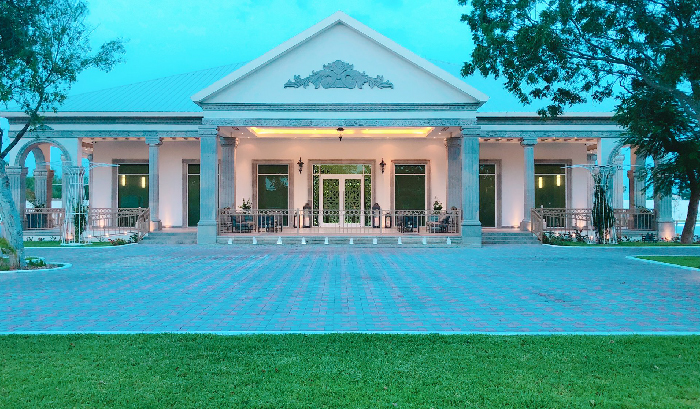 Choose from a variety of beautiful spaces with flexibility for any type of event. Ballrooms ideal for wedding receptions, with an anteroom to receive guests, or attractive options for intimate celebrations before the wedding, dinners or parties. Please, contact the Hotel for more information.
Round tablesGuests sitting at round tables.
Conference room / meetings Guests sitting around a conference table.
classroomGuests sitting in rows with desks.
Theater Invitados sentados en hileras sin pupitres.
U shape Guests sitting around a U-shaped table.
SquareGuests sitting around a square or rectangular table with a central hole.
ReceptionAn open space, ideal for receptions on foot or for breaks.
Halls for events

Size (sq.ft)
Size (mt²)

Bugambilias Room

200
-
-
-
-
-
-

Bugambilias Room

The Bugambilias Room is the ideal setting to celebrate a variety of events. Its elegant decoration in discreet shades of beige. The layout of this room can be arranged as an outdoor event to create a more relaxed atmosphere during the reception.

X

Close this box

Capacity

Classroom

-

Square

-

U shape

-

Theater

-

Reception

200

Round tables

200

Conference room / meetings

-

Surface

900 m² / 9687 sq. ft.

Dimensions

400 m² / 4305 sq. ft.

Height

6 m / 64 ft.

Room aspects
100% air-conditioned Space
Linen, Capelos, bows for chairs, glassware and cutlery.
Entrance staff for reception of the guests
Estacionamientos
Parking lots
Event coordinator
Professional service staff (captain and waiters)
Valet staff in backstage
Space available for 5 hours.

Elegant decoration
Enjoy a combination of classic and contemporary design elements
Candlestick and base plates
Honor table

Support
Personal attention by our event coordinator

Uno Room

100
-
-
-
-
-
-

Uno Room

The Uno Room is the perfect setting to celebrate a variety of events. Its elegant decoration in discreet shades of beige and brown and the beautiful space. The layout of this room can be arranged as a living room to create a more relaxed atmosphere.

X

Close this box

Capacity

Classroom

-

Square

-

U shape

-

Theater

-

Reception

-

Round tables

100

Conference / Meeting room

-

Surface

90 m² / 968 sq. ft.

Dimensions

90 m² / 968 sq. ft.

Height

2.8 m / 8 ft

Room aspects
100% air-conditioned Space
Linen, Capelos, bows for chairs, glassware and cutlery.
Entrance staff for reception of the guests
Estacionamientos
Parking lots
Event coordinator
Professional service staff (captain and waiters)
Valet staff in backstage
Space available for 5 hours.

Elegant decoration
Enjoy a combination of classic and contemporary design elements
Candlestick and base plates
Honor table

Support
Personal attention by our event coordinator

Lucero Room

120
-
-
-
-
120
-

Lucero Room

The Lucero room is the perfect setting to celebrate a variety of events. Its elegant decoration in discreet shades of beige and brown and the beautiful mirror with wooden frame. The layout of this room can be arranged as a living room to create a more relaxed atmosphere.

X

Close this box

Capacity

Classroom

120

Square

-

U shape

-

Theater

-

Reception

-

Round tables

120

Conference/Meeting room

-

Surface

220 m² / 2368 sq. ft.

Dimensions

220 m² / 2368 sq. ft.

Height

2.4 m / 7 ft.

Room aspects
100% air-conditioned Space
Linen, Capelos, bows for chairs, glassware and cutlery.
Entrance staff for reception of the guests
Estacionamientos
Parking lots
Event coordinator
Professional service staff (captain and waiters)
Valet staff in backstage
Space available for 5 hours.

Elegant decoration
Enjoy a combination of classic and contemporary design elements
Candlestick and base plates
Honor table

Support
Personal attention by our event coordinator